HR Support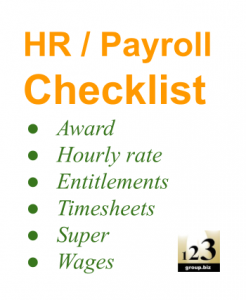 Human Resources is a significant and costly component of a businesses cost structure. Your staff are important and the wages you pay them is important to them.
With major issues facing well known & large businesses underpaying their staff in 2018 & 2019 it's important understand the legal requirements and obligations facing HR Managers.
Our HR Support will give you the knowledge you require about all the staff in your business to ensure you are compliant and remain compliant.
Cert IV in Bookkeeping & Accounting with MYOB & Xero Bookkeeping PLUS

Read more

Xero & MYOB Training Course Packages, Accounting Training Courses, Bookkeeping Courses, Budgets & Forecasting, Cashflow Management, Certificate in Office Administration, Certificate IV Training Courses, Data Entry & Office Skills, Office Support & Administration, Pay Runs, Payroll Training Courses, Reporting, Special Promo Code, Timesheets & Rostering